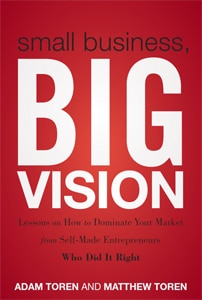 For entrepreneurs the road to success can be very bumpy and full of twists and turns (I know, very cliché, but true). Everyone needs to ask for directions once in a while or pull out the road map to double check the directions. The same can be said for business owners, all of them, especially entrepreneurs. It's a tough business to survive in.
The new book, Small Business Big Vision, by Matthew and Adam Toren, provides every business owner, new or seasoned, a road map…so to speak.
Small Business Big Vision provides information and answers to some of the most common questions they have received.  It touches upon business plans, financing, employees, social media….you get the idea.  You need this book!
Matthew and Adam are experience entrepreneurs, starting way back when they were kids selling airplane gliders at local festivals.  This is what they live and breathe to do, and as a result, they know the ins and outs.  These two guys have the answers you have been searching for…even if you didn't realize you had the question!
If you have ever thought about starting a business, own a business, or want to….this is the book for you.  Small Business Big Vision can help you through the developing stages and transform your idea into a business…. or take your current business and develop it and build upon a strong foundation.
Don't be afraid to stop and pick up that map to get you headed in the right direction on the ever-confusing road to success.