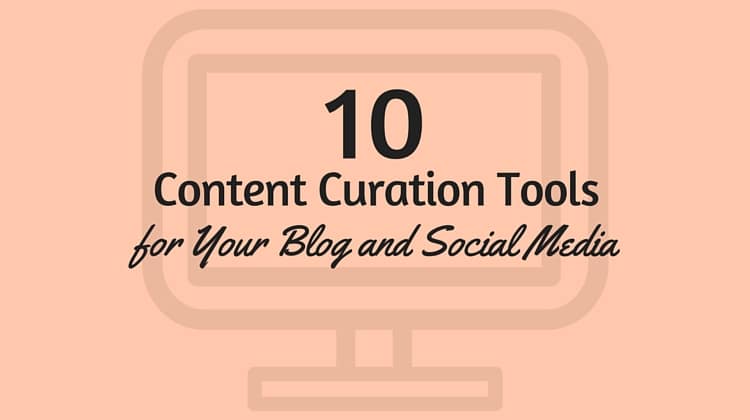 Content curation is the practice of sharing content that is informative, relevant, and sometimes just plain fun. It's a great way to keep your audience coming back to your blog and social media pages. In order to successfully curate content, you have to put some thought behind it.
You can't simply share whatever comes across your news feed that makes you chuckle. You have to find the content that truly connects with your audience. If you don't, your efforts will show that you are just phoning it in, and that benefits nobody. Fortunately, there are great tools available to help you find and share the true content gems that are available to you.
Here are ten of the tools that content marketers of all types are using these days.
5 Tools For Business Owners
If you are a business owner, you keep dozens of plates spinning at any given time. If curating content is one of these plates, you need tools that help you find relevant content quickly, and share it strategically. You also need tools that you can master easily.
These 5 content curation tools have been designed with the busy professional in mind.
Not only is Pinterest a great curation tool, it is super simple to learn to use. If you are surfing the internet and come across something that you can use, just hit the handy Pin It button and save it to one of your boards. Even better, follow the people who are the 'ones to watch' in your industry, and learn what they are pinning. Soon, your followers will be visiting your pin boards on a regular basis to see what you have pinned. Even better, in addition to public boards of curated content, you can also create private boards to store ideas for future blog posts.
If your audience enjoys content that is newsy and current, AllTop.com should be one of your daily stops on the internet. Alltop aggregates content from big news outlets such as CNN and the New York Times. It also shares fun, social content from websites like Mashable.com. If your audience prefers tech or business content, they also aggregate  top headlines from websites like TechCrunch and Fast Company. Create an account and you can easily customize the content you receive.
Unless you trust the source completely, blindly sharing content isn't the best idea. Unfortunately, it's impossible to view content for appropriateness and relevance when you first come across it. Then, if you try to find the content later in the day, you have to dig through your news feeds and inbox, and hope it hasn't been buried. If you use Pocket, you don't have to deal with any of that. You just save content (video links, articles, etc.), and then view them when it is convenient for you.
One of your best bets when it comes to finding content your audiences will appreciate is through people who have the same interests as you and your customers. Triberr is divided into groups, known as tribes. Join the groups that are relevant to you and you can take part in great conversations, and find lots of relevant content to share. It's also a great place to catch up on important industry news.
A great way to curate content is to recycle what you have already created. With Storify, you can combine your own content with curated images and stories you pick up from your social media pages and on the internet to create stories to share with your followers. If that seems like too much work, you can also find stories that other people have curated and share them as well.
5 Content Curation Tools For Marketing Pros
If you have content curation experience and feel pretty comfortable with mastering some more advanced tools, the next five tools on this list could help you boost your curation game. These utilities are definitely more advanced but well worth the time and effort they will save you in the long run.
My Curator is a nifty WordPress plugin that finds content for you to curate via your blog. You can customize the tool by selecting the news feeds you wish My Curator to use. Don't worry about spam and other useless content. This tool does a great job of filtering that out. The best feature of My Curator is that it provides you with an image, attribution link, and a blurb. That's about as effortless as you can get.
7. Professional Content Writers

You may not think of professional content writing services as a curation tool, but they have a lot to offer busy content marketers. First, because they help so many businesses with their content marketing efforts, there are informative blogs on content curation and a variety of other marketing topics. In addition to this, Trust My Paper offers rewriting services that can be used to recycle your own content, or add value to content you select for curation.
Finding great content is only half of content curation. You also need to share content strategically, so that all of your audience has a chance to enjoy your offerings. With Post Planner, you can schedule your shares on a 24 hour cycle. This means no more worrying about time zones or other factors preventing everybody from seeing your content. Post Planner also helps you keep attention focused on your most pressing content offerings.
Trap.IT used to be a simple content curation tool, but today, it's an employee advocacy and social selling tool that can be used to curate content for employees to share through social media. There is some initial work that goes into using this tool. Basically, you have to set your traps by using URLs or keywords. However, once that is done, Trap.IT goes to work finding content that meets your needs. All you have to do is periodically check your traps to see what you can use. The more you use this tool the better, because you can train it to understand your preferences by giving each piece of content a thumbs up or down.
10. Newsletters
You visit one of your regular websites, seconds later a box pops up inviting you to sign up for their newsletter. You'll have access to premium content and insider information, it promises you. Before you click the X to return to what you were reading, stop and think for a moment. Maybe you should sign up? If the website is worth visiting on a regular basis, isn't there a good chance that the content in their newsletter might be valuable to your business and your followers?
Any one of these ten tools are sure to simplify and streamline your content curation efforts. This will allow you to focus on matters of curating quality and relevant content, rather than the efforts it takes to find and share content. Remember that curating great content is a perfect way to improve your visitors' user experience and keep them visiting your website and blog even if they aren't actively looking to make a purchase.
About the Author
Julie Ellis is a writer, marketer, and passionate traveler. As a business writer, she's been featured on such websites as Business2Community, SocialMediaToday, Business.com, and others. You can follow her on Twitter (@premieressay).
Save