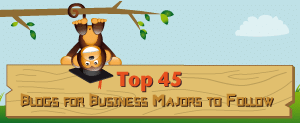 This week, DegreeJungle.com released its list of the top 45 blogs for business majors, and WomenOnBusiness.com ranked 27th on the list!
The WomenOnBusiness.com blog is in good company on this list. Instead of rehashing a list of the most popular blogs that appear on these kinds of lists again and again, the DegreeJungle.com list includes a wider variety of business blogs written by diverse bloggers with an even broader array of experiences, expertise, and knowledge.
Sure you'll find some of the old stand-by's like Seth Godin's blog, but there are some gems on this list that you might not already be reading. It's worth taking a look. I'm sure you'll find some great blogs to add to your list of business blogs to read.