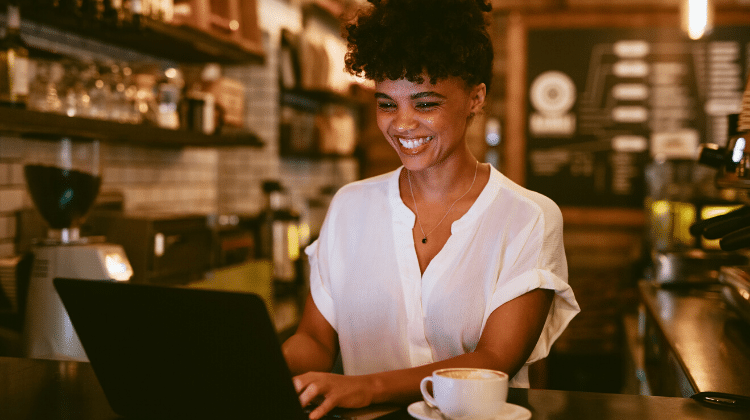 Businesses that are memorable and command a loyal following have one thing in common — they have a strong brand and a unique voice behind it. They invest in uncovering a consistent message and tone that others easily recognize across their entire marketing strategy and communications. This consistent message and tone is the brand voice.
Visual identity like your logo, professional photos, and colors are what might draw in your audience, but a unique brand voice is what keeps them coming back. Regardless of how small or big your business is, it's crucial to develop the consistent voice you use daily to connect with your audience and share your services and products.
Your brand voice steps your business up and apart from any competition. It allows your audience to recognize you like someone and something they want to get to know better. And it builds the trust needed for them to become loyal clients and customers.
Every brand has a personality driving it forward, and this keeps one business from sounding just like another. We each have our personality, our way of viewing the world, and our way of expressing ourselves. Your business is no different.
If your content and social media sound just like a similar business online, for example, no one can recognize who they need to pay attention to out of the sea of countless others.
Your brand voice should be the first thing you define before you establish your social media platforms, create content for your blog and website copy, and network with potential clients in groups. Your brand voice should be acutely present within your offerings and launches and sales pages.
How do you define your brand voice? How can you develop a process for producing a unique personality that sets your business apart from the rest?
Highlight the Person Behind the Brand
First, think about the person at the core of the business. Businesses aren't launched on their own. A vision develops and molds into a tangible service or product. And values and beliefs have helped shape those services and products into what they are today.
The voice behind that vision, values, and beliefs should be the essence of your brand.
Estee Lauder, for example, made it clear that her customers don't have to buy many products. They only need a select few, high-quality cosmetics in their daily beauty routines. This vision, established by the person who created the world-renowned Estee Lauder brand, remains true today.
Identify and Solidify Beliefs
Every business has a belief system. And that should stay relevant to your products and services.
Maple Leaf Foods shook up its brand voice when the CEO shared his political stance on social media. Yes, it's essential to convey what your business stands for and against and share them regularly. But, make it relevant to the growing brand as a whole.
Be Clear and Simplify
Your brand voice should be clear and easy to understand.
Acronyms and industry jargon will not always make sense to your audience.
Tip: Develop three words to describe your brand. For example, Active, Direct, and Impactful.
Use those words as a way to direct your content and conversations. Share them with your team and ensure marketers and writers are clear about the three words that should always be incorporated in your business' voice.
If you're the one doing the writing of social media posts, articles, and emails, here's a tip that will help you maintain a consistent brand voice: Record what you want to say first. Listen to your mannerisms, your way of speaking, your language, and the way your voice goes up and down with different words.
Take note of what it is you want to emphasize, remaining conscious of the words, beliefs, and values your business stands behind. And then write the rest of the content from there.
Be a Storyteller
Businesses often begin from a place of need or desire, whether there's a gap to fill in the market or a desire for service. There's a story behind why a business was created, and using your brand voice to tell it is what will help it come to life!
Revisit that story and develop your "why" to take your audience along for the ride. This is the power of a strong brand.
In other words, why should your audience care about your business, and how can your brand voice help them understand? Your audience needs to learn from someone who saw a vision for a reason. They need that reason and need to hear from you, a human being with a human experience that leads to where you're at now.
Tip: Rather than focus on what your business does, focus on why it was launched and how it can help your clients. For example, if you're a realtor, instead of saying, "I help my clients sell their homes and buy new ones," say, "Since I was a little girl, I've been intrigued by how every home is a unique story. I help my clients begin their chapters and make more money along the way!" Now, say it in your voice, not mine.
Your brand voice is your business' personality, and that's what catches the eyes of your audience first and foremost — yes, even before your font colors, logo, and professional photos.
Are you ready to get clear on what your brand's voice sounds like?
About the Author
Caroline Elisabeth is a marketing consultant and business coach at Build Your Brilliance. She works with women entrepreneurs who are feeling stuck and ready to step into the next level with confidence, clarity, and control. She lives in Toronto, Canada with her husband and two young sons.