WomenOnBusiness.com has received a voucher redeemable for a pair of free tickets to see the off-Broadway show Play Dead at The Players Theatre- 115 MacDougal Street (Between West 3rd Street & Minetta Lane). You can get all the details about the show at PlayDeadNYC.com.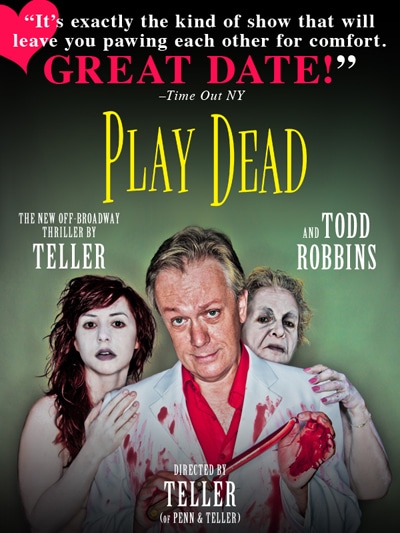 About the Show:
You're probably well past getting scared by haunted houses, but you haven't been entertained in an abandoned-looking theater, lit by a single ghost light leading you on a darkly comedic journey, encouraging the dead to speak to you. PLAY DEAD takes a more mysterious road than what's generally seen on, off or anywhere near the great white way.
Co-writer TODD ROBBINS ("Dark Deceptions") stars as the audience's storytelling guide on an evening exploring death, darkness, and deception. Magician, comedian and dark arts expert TELLER (Penn & Teller), is the director and other co-writer. Their collaboration and combined knowledge and expertise in the underworld promise to take the audience into uncharted waters, loaded with haunting surprises and plenty of shrieking nervous laughter.
Reviews:
"This wild, wicked show is not just a screamfest; it's a good piece of theater!"– The New York Times
"Funny, furious and wholly enthralling!"– Wall Street Journal
"Teller has filled Play Dead with elaborate illusions and effects including a slam-bang finale!"– New York Post
"Todd Robbins is a consummate showman!"– New York Magazine
"If there's one thing more fun than a haunted house, it's a haunted theatre!"– Variety
Follow the rules below to enter the drawing to win a pair of tickets to see the show!
How to Enter:
To enter, just leave a comment on this post.
Comments must be submitted on this post before 11:59pm on Sunday, January 30, 2011 (Eastern Time) to be entered into the drawing. One comment per email address please.
Each comment will be entered into a drawing (one entry per email address), and one winner will be selected randomly from those entries. The winner will receive a voucher which can be redeemed for two tickets to the show in NYC per the instructions on the voucher.
The winners will be contacted via email, so please be sure you leave a valid email address in your comment.
The winners will be notified by January 31, 2011. If a winner does not respond with his or her email address to receive the prize voucher within 72 hours of the notification email being sent, he or she forfeits the prize and an alternate winner will be selected (same guidelines apply).
The winner's prize will be emailed to the winner to the email address provided in response to the winner's notification email. Once the prize is claimed, the winner's name may be announced on Women On Business.
Feel free to share, blog or tweet about this contest! Good luck!