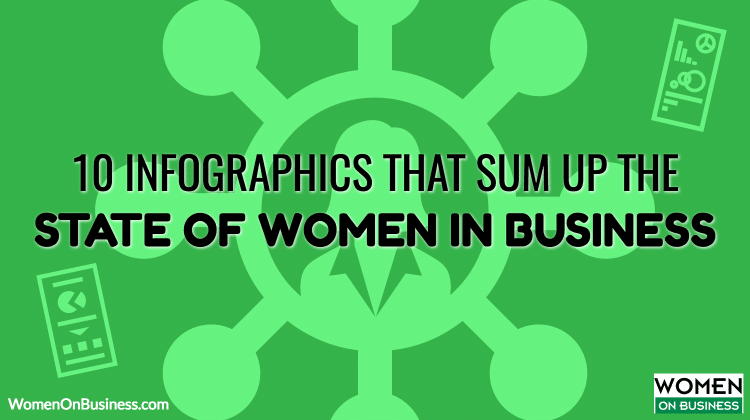 We all know that we're a long way from achieving equal pay for equal work, and it's not a secret that the leadership positions at most companies are dominated by men.
Today is International Women's Day, so it seems like there is no better day of the year to focus on exactly where women are in the business world. To that end, I gathered 10 infographics that have been published over the last few years which provide a fairly clear picture of the state of women in business, including corporate business, small business, technology, and more. Take a look and see exactly what's really going on. After all, the numbers don't lie.
1. What's She Worth? The Slow Road to Equal Pay
From the 1970s to the 2000s, this infographic traces the gender pay gap, variables that affect a female's worth in business, and more. Take a look at these stats and it's no wonder why more women are choosing to start their own businesses!
Source: Women on Business
2. The Imbalance of Women in Business Leadership
This infographic shows how much better companies perform when women hold leadership positions, yet the gender imbalance in leadership persists!
Source: Women on Business via Washington State University
3. Women Entrepreneurs Make Business Boom
The number of women who start their own businesses continues to increase every year. It's really not surprising when you look at all of the data in the infographics in this article, particularly the infographic below.
Source: Women on Business via CreditDonkey

4. Women in Tech are Making Their Mark
According to the data in this infographic, women are employed in STEM (science, technology, engineering, and math) careers about half as often as men. There are many reasons for this gender disparity, and some of those reasons start to manifest as early as grade school!
Source: Women in Business via WhoIsHostingThis?
5. Women-Owned Businesses
According to this infographic, women have been starting businesses five times faster than the national average since 2007! In fact, women start over 1,000 businesses in the United States every day.
Source: SCORE

6. Women-Led Businesses: Growth and Impact
Did you know that businesses owned by multiple people perform better when both genders are owners? That's just one of the interesting stats in the infographic below.
Source: National Women's Business Council

7. The Female Entrepreneur – Women Who Run Their Worlds
Since 2007, women-owned businesses have led privately-held company job growth in America. They've also grown at 1.5 times the rate of other businesses over the last 15 years. Impressive, right?
Source: Entrepreneur via USC Marshall
8. Businesses Owned by Women
A total of 48.3% of women run their businesses out of their homes (including me!). After all, for many women, the flexibility that business ownership provides is one of the biggest benefits!
Source: Experian
9. Female CEOs – Is There Equality at the Top?
According to this infographic, women make less money than men for the same work, and it takes women longer to become CEOs. Unfortunately, one of the biggest hindrances for women in business is having a family, but that's not the case for men.
Source: Towergate Insurance
10. The Current State of Women in Data Science
Back to women in STEM careers – this infographic shows that women make up just over one in four data scientists. In 2014, women held only 13% of Chief Information Office roles. Even more troubling is the fact that women are two times more likely to quit high tech jobs, which shows something is going very wrong in the workplace.
Source: BetterBuys

So there you have it – the state of women in business by the numbers thanks to these 10 great infographics. What do you think? Obviously, there is still a long way to go for there to be true equality in business, but every little step helps! Please share this article and keep the conversation going!
Save
Save
Save
Save