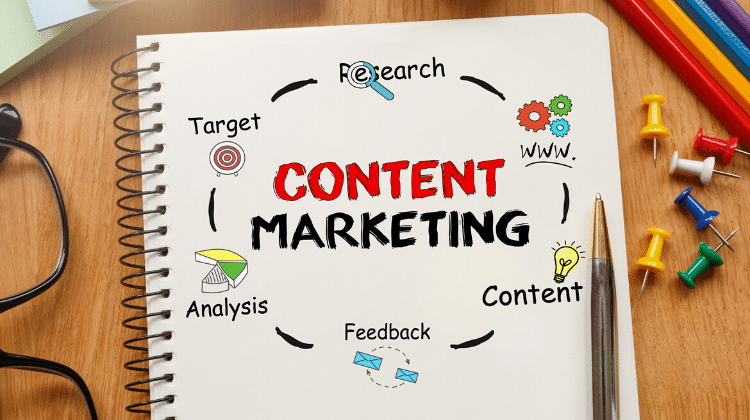 Content marketing done well is a full-time job. Yet busy business owners think they should be able to do all their content marketing – along with all their other jobs too.
Why is this? In most cases, it's because there is a lack of knowledge about what content marketing requires.
For example, "content marketing" itself is an umbrella term. It includes several different aspects: writing, editing, strategizing, publishing, social media, analytics, and more.
In larger companies, a whole team of people takes on the job of content marketing. They work together to develop, implement, and track content marketing projects!
In smaller companies and for the solo entrepreneur, effective content marketing is frequently only achievable with outsourcing.
This step-by-step outsourcing guide will help you identify which aspects of content marketing to outsource.
8 Steps to Outsourcing Your Content Marketing
Here are the eight steps you can take to start outsourcing your content marketing today.
1. Figure out what you need.
Before you can outsource, you need to identify your big-picture goals and map out the strategy that will get you there.
If at all possible, you want to keep this part of your content marketing in-house, since no one knows better than you and your team what makes your business unique and how best to reach your ideal customer base.
Once you have your business strategy down on paper, it becomes much easier to identify key personnel and platforms required to implement that strategy through content marketing.
For example, perhaps your goal is to increase new inbound traffic to your website and turn those visitors into new customers.
By analyzing your industry and competitors, you know that your ideal customer is most likely to find you through a blog post or social media feed.
So you decide to launch a blog and upload one new high-quality post per week that includes an email capture feature. You also choose to link that blog feed to one social media platform to widen your reach.
Now that you have mapped out your umbrella strategy, you know which content marketing functions you need to outsource. You need a blog manager, a blog writer/editor, and a social media manager.
2. Decide what you're comfortable outsourcing.
There is no doubt that some content marketing functions will be more economical to outsource than others.
For instance, in the previous section, we recommended you keep your executive-level strategizing in-house. It's not just because your team is the best team for this job, but also because this is one of the most expensive functions related to content marketing to outsource.
The reason it's so expensive is that no one else you hire to do this job will be better at it than YOU. You alone know your industry and your competitors better than any third party ever could. So this high-level strategizing is the best use of your valuable time.
But once you or your in-house team have hammered out your vision, mission, and goals, it becomes both more comfortable and more affordable to outsource lower-level content marketing tasks that support the achievement of your business goals.
One of the most common and affordable content marketing tasks to outsource is writing and editing. The APA and other style guides make it relatively easy to train and guide writers and editors to produce the type of content that will drive your business goals forward.
Other standard functions that many companies choose to outsource include social media and formatting content according to a company style guide.
3. Create a company style guide.
The APA (American Psychological Association) style guide is one of the best-known and most frequently referenced style guides in the world. You might see it used more commonly for writing and editing academic papers, scholarly research, editorials and journals, and similar types of content.
In the same way, many companies find it helpful to develop their internal style guide as a supplement to or replacement for the APA guide.
Even if you choose to use the APA guide, you'll want to provide your content marketing team with guidance regarding the use of your logo, motto, slogan, copyright and trademark terms, corporate culture, writing style, and tone.
Some companies prefer to use very formal language and third-person verbiage in all their official communications. Other companies choose to adopt a more personal, laid-back, and informal communications style.
There is no one right or wrong way, but your content marketing team will need guidance from you to be able to deliver useful, effective material. Your internal company style guide is the best way to provide this information to your team.
4. Outsource writing.
Taking the time to develop your internal company style guide will make it much easier to outsource your content marketing writing tasks.
Freelance business writers are accustomed to writing from a set of instructions that include word count, search engine optimization (SEO) keyword lists, keyword frequency instructions, voice and tone, and similar requirements. You can also add a detailed outline to make sure the content covers the exact topics you want to be covered.
When you outsource your social media, you're outsourcing one aspect of your company's public voice.
You want to provide written instructions regarding the use of images, colors, company trademarked slogans and logos, voice, and tone. Your social media manager will also need clear direction on responding to follower questions and suggestions, including complaint resolution protocols.
6. Outsource editing.
Outsourcing editing has never been easier than it is today. Apps like Yoast and Grammarly have nearly automated many of the essential editing functions while guiding how to edit to your company's corporate voice and tone. Alternately, you can hire an actual editor to review each piece of content before you hit publish.
7. Outsource formatting.
Editing and formatting are similar functions in many ways. For some companies, it makes sense to outsource both tasks to a single individual or entity.
As with editing, your company's formatting style guide should give clear guidance for ensuring all corporate communications adopt the same voice and tone.
You may find it beneficial to provide exact templates for different types of corporate communications, from emails and letters to blog posts and social media posts, including placement and size of images, colors, fonts, and handling of slang, acronym, contractions and similar details.
8. Ask for a test.
It's industry standard to require an initial aptitude test as part of the outsourcing screening process. You'll want to develop criteria for writers, editors, social media managers, formatting and publications, and other tasks you don't plan to do in-house.
It's your option whether you want to offer the test as paid or unpaid. Be clear about what constitutes a "passing" score and what resources the candidates may use to complete the test.
By spending your time upfront to identify and clearly outline your company's mission, vision, values, and goals, you lay the groundwork for your team to deliver results in keeping with your expectations.
Perhaps most importantly, by developing clear, concise style guidelines for communicating the same, you can outsource as much as 70% of your content marketing with confidence.
About the Author
Lisa Parmley writes about how to start and scale an online course business. She launched her first training business in 2001 and has successfully run it for the last 19 years. She shares her tips learned over the last two decades and interviews other course creators at coursemethod.com.