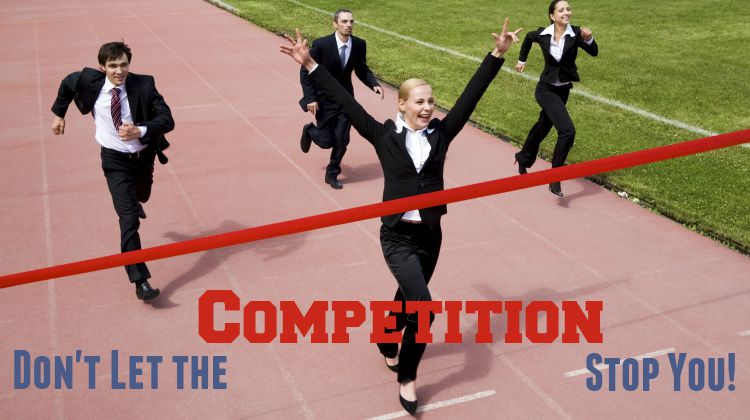 Where I live, there is a bank on just about every corner. Obviously, they aren't worried about their competition.
Then there's CVS and Walgreens, and sometimes they are right across the street from each other. Do they worry about the competition?
The point is don't shy away from a niche because you think there's competition. There's going to be competition in any niche you choose. Here's the good thing. If these competitors are growing and thriving, it means you are in good company!
Research Your Competition to Find Your Niche
You can take a look at your competition's track record.  Decide what you can bring to the table that they aren't. If you can create a product or offer it in a more focused manner, it will beat out the competition.
There's a lot of talk about the weight loss industry. On Facebook, you see Fan Pages going up left and right that focus on this topic. Let's say you want to be in this particular niche. What can you do that others might not be doing? How can you do it in a way that's unique to you?
You could narrow your focus to women who just gave birth and want to lose those pregnancy pounds. They want to get back in shape in a healthy way. Can you help them do that?
Use Your Personality to Reach Your Ideal Audience
Since there are so many people in this niche, one of the best ways to stand out from your competition is by looking into the mirror. That's right. The one thing your competition doesn't have is you! That goes for any niche you are in.
You are looking for a market that relates to you and what you have to offer. This is a key element that people starting or wanting to grow their businesses forget.
For instance, if you were at a networking event and went up to someone and said, "I have a great weight loss product. Here's my brochure. A 30 day supply is only …."  Think about it. You've never met this person. Are they telling you that you are over weight?
Let's try this scenario again, "Hi! I'm so and so. What do you do?" Now, wait for reply. Next, "I'm on a mission to help women eat better, feel healthier, and lose some weight in the process. If you know anyone who might benefit from this brochure why not share it with them."
Pretty easy right? Which person would you rather deal with? Personality number one or personality number two? The personality of the second person seems more real. You didn't feel you were being sold to.
[Tweet "Use your personality to reach your ideal audience. Don't be someone you're not. Be who you are."]
This week, I spoke to a group of business owners on the topic of making your website a lead generating machine. Before I got up to speak, they had one of their members talk about their product. This young woman did one of the best jobs I've seen explaining essential oils and what they do. She used her personality, which was infectious, and you could tell by the questions she answered that she knew her product inside and out. This young woman used her personality to market her product and with great results.
What you need to do is select a niche that you're interested in. Do your homework and research what the competition is doing. Find out who's being left out of their target audience. Use your personality and market to that audience.