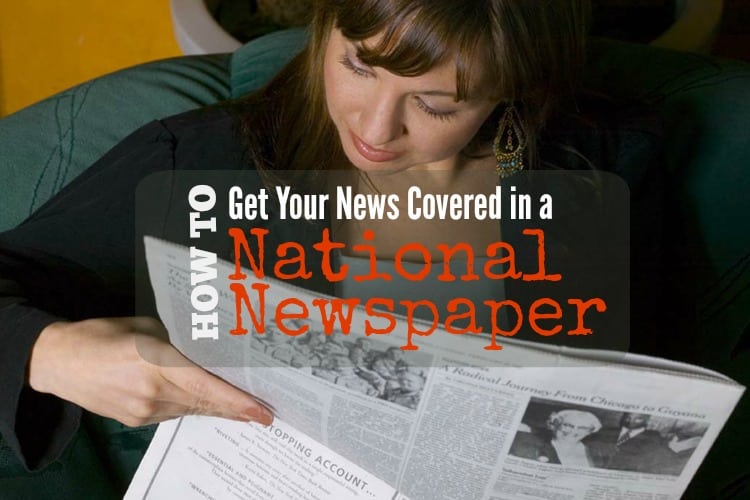 So you have this awesome story that you think deserves to be included in a national paper like The Guardian or The New York Times. Whether it is a late-breaking piece of news about your business or you have the inside track on your niche like no one else, here is what you need to know (and do).
4 Tips for Pitching Your Story
1. Know the News Organizations, Their Editors and Journalists
Make sure that you know the focus of the paper, its sections and the journalists and editors that write for those sections. Don't pitch your story to the wrong area or it will end up in the circular file.
2. Keep Your Write up Contextual and Factual
This is time to put as much of the 5W content (who, what, when, where, and why) as you can in your story pitch. If it's an ongoing story, frame your pitch to bring in new material, while also keeping it in context with what's already been written.
3. Follow Protocol
If the news organization gives a form to use for submitting pitches, use it. Do the research ahead of time and make sure that it's going to the right department. If they suggest emailing the reporters directly, do it. Most large newspapers include the reporter's email in the print edition or online by clicking their name on the article's page. Emails are generally the easiest way to reach reporters, but you can also call.
4. Don't Expect to be Paid
Newspapers are not obliged to pay your for any material that you may submit, so don't expect a check.
5. Don't Bug Reporters
Only a fraction of the words written for papers by actual journalists get printed. For The Washington Post it's 180,000 out of 2 million. These aren't awesome odds for getting your material verbatim into a story. However, by following these rules, you have a greater shot of success. Don't send repeat emails to the paper if they don't run your story. Instead, just try and try again with a new one.
4 Tips to Write Your Press Release
Now that you have the basics about getting your story to the newspaper, you should make sure that the press release or story pitch you send is top quality.
Follow the press release writing tips we've outlined here:
1. The Headline and the Lead
Keep these two concise and factual, while also maintaining the fresh appeal. You want the headline to grab the reader's attention and the lead to make them want to keep reading. Don't use jargon or sensationalism. Straight to the point is the key here.
2. The 5W Content
Reporters get hundreds of story pitches and press releases every day and do not have a lot of time to sift through to find the facts. To give your press release a leg up, put the 5W content (who, what, when, where, and why) at the very beginning. Reporters will thank you.
3. Include a Quote
Try to find a quote that is important to the story and put it in after the 5W content. Make sure that the quote improves the story and have the quoted person's name, title, and contact information in there.
4. Boilerplate and Contact Information
Lastly if the story involves a particular company or person, write a very brief description of them. Follow that up with a way for the reporter to contact you with questions. Include your name, title, email, and phone number.
Now, we can't guarantee that every piece of news that you bring to an organization will get printed, but if you follow these steps, we know you will have more success.
Best of luck and happy writing.
Ever had your story printed in a national newspaper? Tell us what you did!
About the Author
Mickie Kennedy is the founder and president of eReleases, a press release distribution company.