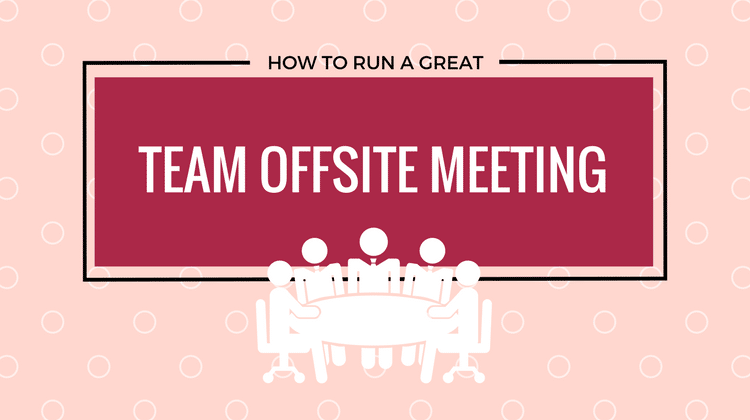 A team offsite meeting is a time to bring people together to make important decisions in a fresh environment. When handled correctly, they can be very effective from a company culture perspective. In fact, all kinds of businesses can benefit from the collaborative nature of a team offsite meeting, whether you're part of a big multinational or a small ecommerce company just starting out.
However, if team members aren't on board, misunderstand the purpose of the offsite meeting, or feel their voices aren't being heard, your objectives can quickly derail. A corporate away day means bringing in employees from all the different areas of the company – with distinct specialties, personalities, and communication styles – all together in one place. It's your role as a manager and coordinator to ensure that you harness that diversity in a positive way.
Here are a few ways to ensure that your next team offsite meeting goes without a hitch.
Put Enough Time into Team Planning
As with so many things in life, it all starts with planning. In the hustle and bustle of the day-to-day running of a company, employees will often come across things that bother them, which they will make a mental note to bring up at the next opportunity. However, not all managers make time to hear feedback from their teams on a regular basis. Planning a team offsite meeting is a great opportunity for your staff to recall and articulate their feedback so they can feel heard.
As the boss, manager, or facilitator, it's your job to plan the agenda to make sure you cover as much ground as possible. While it may not be possible to cover every minor gripe, showing that you've made an effort to address the bulk of the feedback is important and shows a willingness to listen that won't go unnoticed or unappreciated.
You need to focus on strengthening your team and supporting natural team ties on a regular basis, not just during an away day. Here are seven steps to building a stronger team — employee satisfaction is a big one.
Remember to Actually Leave the Office
This part is important. If you're going to run an offsite meeting, you do actually need to go offsite. In an effort to save money, some businesses look to recreate the offsite feel without actually leaving the office, which is fruitless. It is the physical move to a neutral location, free from the usual distractions, that can help to shake things up.
Neutral territory can spell the difference between an offsite that people remember and one that feels like just another day at the office. Do you actually want to make some strategic changes, or are you just looking to dole out some tasks? If it's the latter, then an offsite maybe isn't what you need.
Set Firm Ground Rules
With a team offsite, it's important to be clear about your ground rules right from the start. The offsite meeting should provide a safe space where even the quiet people feel like they can speak up. It's important for constructive criticism to be aired where necessary but in a way that doesn't result in potential disciplinary action or people taking offense.
It can be useful to reach an agreement that 'what happens at the offsite, stays at the offsite', so there is some level of confidentiality. This way, people don't need to worry about their comments being reiterated back at the office – unless as a group it is decided that they should be. As always, being polite and respectful should be a firm ground rule.
Your leadership philosophy will play an important role here — make sure you have checked in with yourself so you know how you're leading the day.
Keep Your Group Small
If you've nabbed yourself a big, swanky offsite location, you may be tempted to fill it with as many people as it can accommodate. But you may want to rethink this decision, as a group of any larger than 10 will make it difficult to ensure that everyone has their say. Likewise, too small a group may not give you the most representative results.
Ideally, you should aim for between 5-10 employees, with some diversity when it comes to age, seniority, and skills. An external moderator or consultant can also provide valuable insight from an outside perspective.
When it comes to group work, consider splitting into smaller groups of three or four before coming back together to discuss your ideas. This is often a more productive way of covering ground than a mass brainstorm.
Be Aware of the Group Dynamic
In any workplace, you're going to have some employees who are more confident and vocal than others. You will have no trouble getting opinions and ideas out of these people. However, as the offsite moderator, it's really important to ensure that everyone has a chance to speak up – or you might as well only invite the outgoing ones.
Everyone has something to contribute, but some will hold their ideas back if there are one or two individuals dominating the room. Therefore, you should allow people to contribute their thoughts in different ways. If someone hasn't spoken up for a long time, you can gently involve them in the conversation by asking them what they think or posing a question.
Emphasize that you want to make sure everyone gets a chance to speak, and ask people to build on what's already been said. It's likely that some of your more vocal members are also the more senior people, so you can let them know in advance that you want to make an effort to hear from everyone.
Bear in mind that some people, while not vocal in the moment, often come back with useful reflections after they've had some time to mull it over. Be sure to give these people a chance to offer their insights as you come back to previously discussed points.
Conclusion
Whatever the size of your business, offsite meetings can inject life into a stagnating project or strategy, shaking up ideas and allowing employees who don't usually mix to work together. Some organizations even go further and take a 'workation' retreat.
Some 'away day' programs give team-building a bad name (what with all the karaoke, blindfolding, and 'us vs. them' competitive activities). If you approach your offsite with the spirit of providing a useful, refreshing experience, you may be pleasantly surprised by the results.
About the Author
Kayleigh Toyra is a professional multilingual writer and content marketer who specializes in digital and SEO copywriting.