Please join me in welcoming Jess Webb to the WomenOnBusiness.com team of contributing writers. Jess brings a creative flair to the business discussion as you'll learn from her background below.
About Jess Webb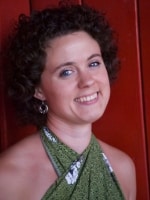 Jess is a quirky 20-something who loves to help women entrepreneurs be irresistible online to attract their ideal fans and clients, and make more money. She is drawn to beauty and has a knack for taking what you already have and turning it into a work of art that reflects your unique awesomeness and draws your ideal customers to you.
Her mission is to help change the way business is done in this world by empowering women entrepreneurs to embrace their inner Goddess and uncover their irresistiblity, in and out of business and marketing. When we, as women, truly step into and embody who we are meant to be, with all of our amazing feminine power, we truly will change this planet!
Whether it's your website, Facebook Page, Twitter profile or ebook, Jess can help you make it irresistible to get your big message out into the world! If you want to Be Irresistible Online and start making more money and a bigger difference, you can get join the Be Irresistible Online community on Facebook. You can also find Jess at her Be Irresistible Online blog.
Welcome aboard, Jess!