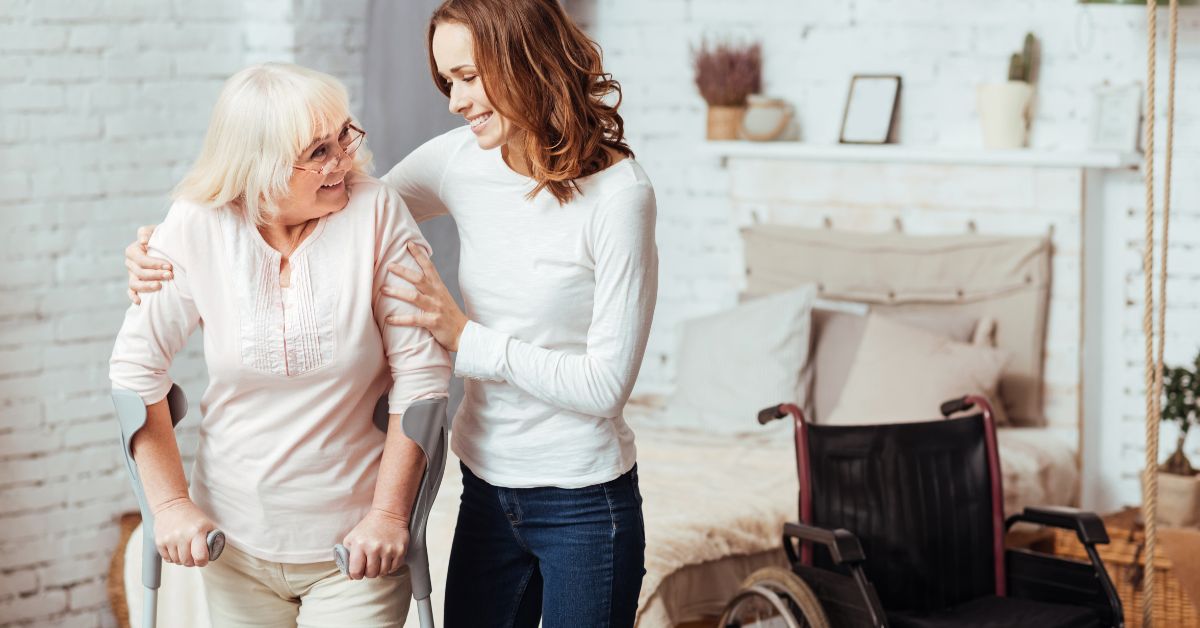 Being a caregiver can be exhausting, both physically and emotionally. Whether you're taking care of a loved one or you're a professional caregiver, it can be draining, and sometimes, it's hard to prioritize self-care when you're a caregiver.
If you're the caregiver for a loved one, this can be especially hard to keep in mind since you're not clocking out at the end of the day, as you would be as a professional caregiver.
Being a caregiver is stressful and can lead to burnout. Whether you're a professional caregiver or are caring for a loved one, you need to prioritize self-care for your own physical and mental health. This article provides some self-care tips for caregivers.
Isn't prioritizing myself selfish?
Absolutely not! Let's look at it this way: When you're on an airplane and an oxygen mask comes down, you're supposed to put on your mask before helping someone else with theirs. Without taking care of yourself, you cannot take care of others very well. If your needs are taken care of, the person you're caring for will also benefit since they will get you at 100%, not worn down and drained.
When you're stressed, overworked, or burned out, you don't have the resources or mental bandwidth to be there for the people in your life truly. Some of the health problems that can occur when someone is neglecting their self-care include:
Sleep deprivation
Irritability
Headaches
Weakened immune system
Weight gain
Bad eating habits
Not caring for self when sick
Depression or anxiety
Using alcohol or tobacco
High cholesterol
High blood pressure
It can be hard to find the time to take care of yourself when you're overworked, but it's crucial to at least carve out a little bit of time each day to take care of yourself. Neglecting your own health means you may cause more damage to yourself later on, and then you may be unable to act as a caregiver to someone else until you heal.
You don't want to run yourself down to the point where you're in a serious accident and have to spend time healing; you won't be able to care for someone else while you're stuck in the hospital.
Be Nice to Yourself
Being nice to yourself is an important part of your self-care. This means giving yourself credit for the hard and complex work you do as a caregiver, tuning out the voice in your head that is critical and harsh, and allowing yourself even just a few minutes a day to take care of yourself. Don't feel selfish or beat yourself up for tending to your own needs.
Listen to Your Body
It can be hard to make sure you're sleeping enough and eating healthy when you're busy, which is why self-care is so important. Listen to your body; do you feel like you're sleeping well enough or eating healthy? Or are you tossing and turning and eating fast food while running errands? What about exercise?
Try giving yourself enough time to sleep each night and eat something healthy. If you don't have time to hit the gym, try just taking a walk around the block; even something simple like that can make a difference.
Set Boundaries
When you're focused on taking care of someone else, you might become accustomed to saying "yes" to whatever they need. However, sometimes it's important for you to say no when you just don't have the energy to give them something. Setting boundaries, either with the person you're caring for or with others in your life, is crucial to your self-care.
Try Breathing Exercises
Breathing exercises are a good way to help calm yourself and relax, and they only take a few minutes to do. You just need to find somewhere comfortable to sit down, close your eyes, and focus on your breathing.
Breathe in slowly for five counts, then hold and pause for five counts, then exhale and repeat. Do this for five to 10 minutes. Giving yourself this brief rest can help you clear your head and feel more refreshed during the day.
You can also try a guided meditation or breathing exercise app. There are plenty to choose from these days.
Take Regular Breaks
When you're working, you're expected to take regular breaks. You should also take regular breaks when working on caregiving. Even if that just means sitting down and having a cup of coffee, it's still a little bit of downtime that allows you to breathe.
Ask for Help
You can't do everything yourself, and asking for help is not a sign of weakness. It's really a sign of strength. What are three things that are currently on your to-do list that you can ask someone for help with or delegate? Is there anything that you can simply let go of for now?
Sit down and make a list of the things on your to-do list this week, and mark what things you can get help with or delegate. Remember, not even superheroes do everything on their own; they often have others behind them, helping and supporting them.
Stay Socially Connected
When you're focused solely on caring for another person, it can be hard to stay connected with your friends and family. However, it can feel isolating when you're caregiving alone, which can hurt your mental health.
By staying in contact with your family and friends, you'll be reminded that you're not alone and have someone who you can talk to. Even if you just have a quick, 10-minute conversation, it can still give you a lifeline to the outside world.
Other 10-Minute Self-Care Tips
"I just don't have time to focus on myself." If you're thinking that while reading this, here are some quick things you can do each day that only take 10 minutes:
Go for a walk.
Watch a short, funny video.
Take a few minutes to brain-dump in a journal.
Have a healthy snack.
Listen to some music and dance around.
Do some light yoga stretches.
Spend 10 minutes on a treadmill or stationary bike.
Play with your dog or kids.
Read a chapter of a book.
About the Author
Geralyn Ritter is an accomplished corporate senior executive, miracle survivor of the 2015 Amtrak train derailment, and author of Bone by Bone: A Memoir of Trauma and Healing.