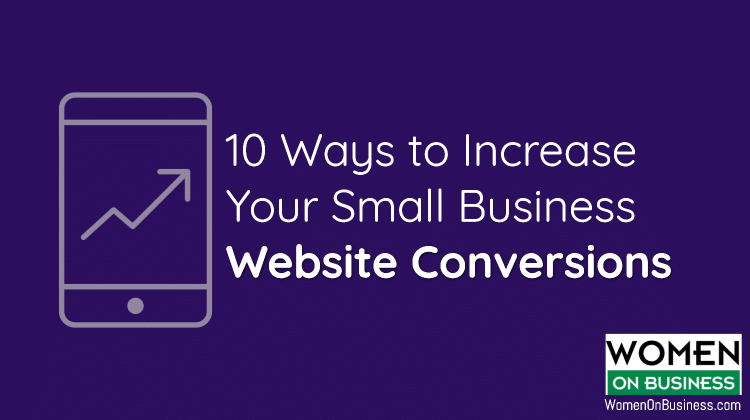 You've invested time and money into building your small business website, but are you getting the website conversions that you need? It doesn't matter if you want those conversions to be closed sales, downloaded ebooks, newsletter subscriptions, or something else. The recommendations included in this article will help you boost those conversions.
Your website is an important marketing tool as well as a sales tool (whether or not you're directly or indirectly selling your products or services on your small business website). That means your site has to be designed and written in a way that helps your visitors take the necessary conversion paths. The 10 tips below are easy to implement yet extremely effective in boosting website conversions.
1. Reduce the Clutter
Too much text, images, and ads make your website confusing. To get website conversions, you need to make it as easy as possible for visitors to see your calls to action. Don't let any other elements get in the way.
2. Provide a Road Map
Your website visitors need to be able to find the information they need quickly. Make it easy for them to follow the paths that lead to your calls to action and conversions. Clean design and clear navigation are critical!
3. Show Some Proof
To boost website conversions, you need to prove to visitors that they can trust you, your brand, and your business. Prove your claims by including testimonials, but make sure those testimonials can be verified as written by real people. For example, link to reviews on LinkedIn, Yelp, or Google, and for testimonials that you publish directly on your site, include the person's real name and a link to their website or social media profile whenever possible.
4. Give Directions
Never assume that people know what to do when they get to your site. You have to be specific in your copy, and always keep them laser-focused on your road map to convert.
5. Offer Reminders
Make sure anyone who lands on any page of your website can instantly tell what your business does and why they would want to buy from you. Furthermore, make sure they can convert in as few clicks as possible!
6. Let People Opt-Out
No one likes to feel trapped (and that includes feeling trapped by tons of email messages in the future). Always offer a way for people to opt-out of your future email marketing. Yes, you want to boost conversions and be able to market to your list in the future, but you still need to comply with email marketing laws.
7. Offer Help
People who visit your website might have questions. Make sure they can get answers easily. Include your contact information and links to your social media profiles. Consider offering a frequently asked questions page or an online chat feature. Most importantly, make sure you respond to all messages quickly (the faster, the better).
8. Keep It Current and Working
If you don't care enough to update your site and make sure everything is working properly, then visitors will think you don't care about them either. Therefore, audit your website regularly and ensure links work and pages load in multiple browsers and on multiple devices. Proofread your content and update your site with fresh content frequently.
9. Exercise Restraint
Hard sales messages can turn off web visitors. They expect business websites to be more helpful and less aggressive, so leave the over-the-top sales pitches out.
10. Be Mobile-Friendly
Most web traffic comes from mobile devices today, so it's imperative that your website works correctly on mobile devices. Otherwise, you could lose valuable customers!