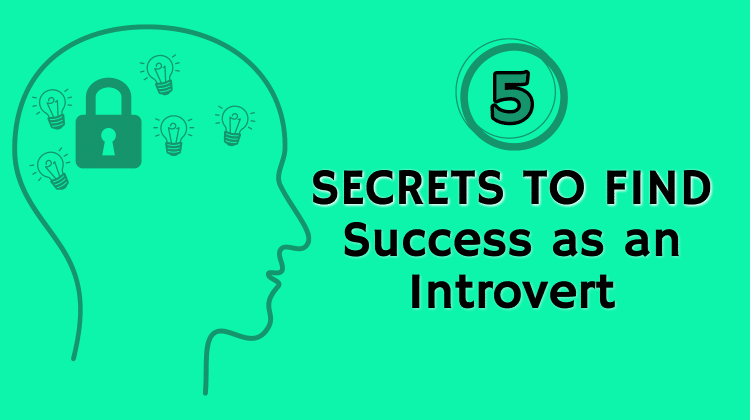 Talking to people is exhausting. I get it. I'm an introvert, too. However, many of the most successful business people are introverts. Your personality doesn't dictate your career success. Your actions do.
Is it easier for extroverts to excel in business? Possibly. So much of business success is tied to networking, but that's not the only piece of the puzzle. I often think life would be easier if I were an extrovert, but it's really just a case of "the grass is always greener," isn't it?
Extroverts face challenges in achieving success, too. Distractions might be more frequent and finding focus could be a problem when you're energized by interacting with other people. In other words, being an extrovert has it's drawbacks just like being an introvert does.
So how do you embrace your introvertedness and find success without fighting against the real you? Here are five tips you can follow to be true to yourself while charting a course to reach your career goals.
[clickToTweet tweet="Your personality doesn't dictate your career success. Your actions do. via @womenonbusiness" quote="Your personality doesn't dictate your career success. Your actions do."]
1. Identify the Types of Interactions that Energize You
As an introvert who wants to build a successful career, you need to identify the types of interactions that energize you and pursue activities that allow you to enjoy those interactions. For example, if in-person networking isn't your thing, social media might give you a perfect place to build your brand from the comfort of your desk.
2. Find the Environments that Motivate You
Introverts can be significantly affected by their environments. Busy offices with open cubicles can destroy an introvert's productivity level. With that in mind, choose a career and working environment where you can thrive or you'll constantly struggle to be happy.
3. Be Social on Your Own Terms
Most introverts find social interactions draining. The trick is to be selectively social. Choose social interactions that put you in the most comfortable environment possible. When you can't avoid uncomfortable social situations, make sure you practice small talk in advance. For introverts, making small talk can be agonizing, but if you prepare in advance, you can get through it.
4. Recognize Opportunities that are Right for You
Not every opportunity matches your goals, and not every opportunity matches your abilities as an introvert. For example, many introverts struggle as public speakers. Getting up in front of an audience and talking about a topic they love isn't the problem. It's the required social interactions and inevitable small talk that comes with those speaking gigs that cause them problems. Recognize your limitations and adjust your path to accentuate your strengths rather than make yourself uncomfortable.
5. Build an Appropriate Personal Brand
Don't try to be what you aren't, and don't try to make people think you're something that you're not. The way you present yourself in person, on the phone, in email messages, and online should be consistent. This is your personal brand. Don't think of being an introvert as a negative. It could be exactly what gives you a creative edge! Instead, embrace it as an integral part of who you are and allow the positive parts of your personality trait to shine through in everything you do.
Save