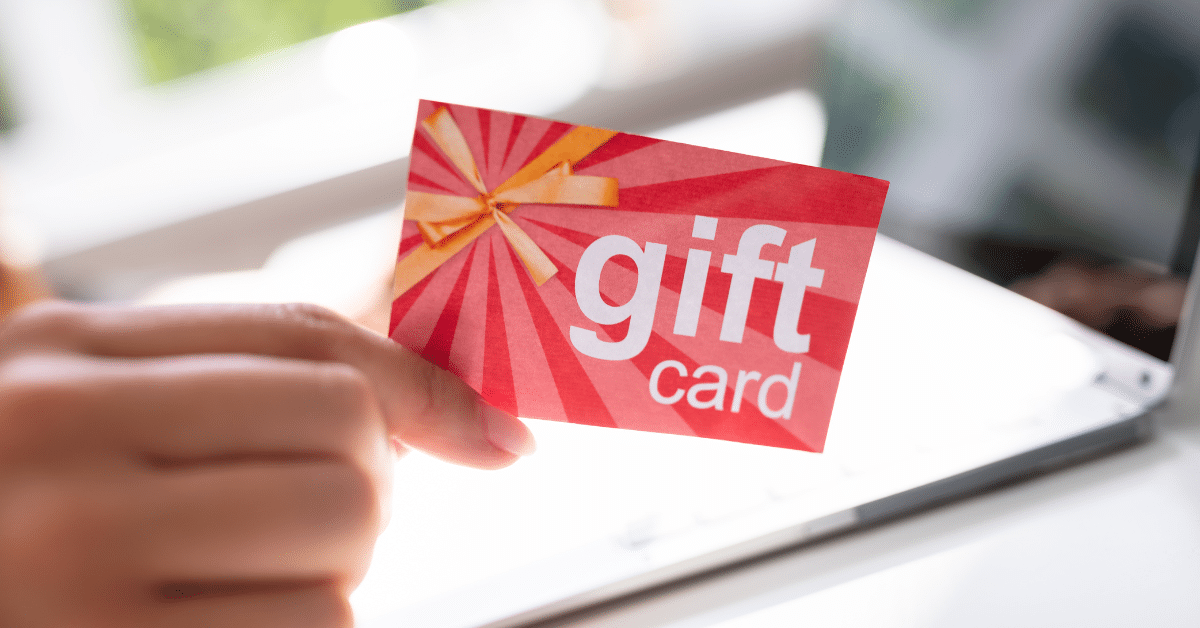 A 2022 survey by YouGov.com, conducted for CreditCards.com, revealed that 47% of American adults have at least one unused gift card. That means the merchants keep all of the money they made from the original gift card purchases. It's not surprising that gift cards are so popular among large and small businesses.  
The trick for a successful gift card marketing program is to get people to buy the cards. The following tips can help you increase purchases of your small business gift cards and ensure your programs are successful.
1. Promote Your Gift Cards
Just as you promote your products and services, you need to promote your gift cards. This is particularly important leading up to holidays throughout the year. Include promotional messages in your emails, newsletters, social media posts, blog posts, ads, and everywhere else you can think of. Make sure your gift cards are highlighted on your website, and remind people often that they can purchase gift cards from you.
2. Offer a BOGO
Offer a buy-one-get-one free gift card promotion or a buy-one-get-one half off promotion. Your customer can use one card and give the second to a friend who might turn into a brand new customer for your business! Just make sure you choose a dollar increment for the free gift card that works for your budget and desired profit margins.
3. Make Your Gift Cards Easy to Buy
Purchasing a gift card from your business must be extremely easy or customers won't want to bother. If they have to complete various forms, pay by cash only, or perform extra steps that they wouldn't have to take when making any other kind of purchase, they won't do it.
4. Make Your Gift Cards Easy to Find
Don't hide gift cards behind the counter in your brick-and-mortar locations. Instead, display them next to the cash register and near last-minute gift items where impulse shoppers will see them. There's a reason why big box stores like Target and Walmart make gift cards available at the check out counters, on end caps near gift items, and in a variety of other locations throughout their stores.
5. Remind Customers about Your Gift Cards
Don't let customers complete a transaction in your brick-and-mortar location or on your website without asking one more time if they'd like to add a gift card to their purchase. For example, before an online customer confirms her online shopping cart items and submits payment to complete her online transaction, suggest that she add a gift card to her purchase. Train all of your employees to ask customers if they'd like to add gift cards to their purchases at the time of check out.
6. Remind People about the Perks of Gift Cards
There are so many ways to appeal to consumers' emotions with gift cards. Make sure your marketing messages explain the benefits like:
There is no sales tax on a gift card
Shopping time is reduced
They're easy to wrap
7. Use Gift Cards to Build Brand Awareness
Are there organizations in your local area that need prizes for raffles, donations for gift baskets, and so on? Often, local charities raffle off prizes (including gift cards) that could lead to brand exposure and marketing for your business since those prizes are typically heavily promoted to the public in order to increase raffle ticket sales.
8. Offer Free-Trial Gift Cards
Gift cards can be used to get new customers through free trials and referrals. For example, when a current customer makes a purchase, offer a "gift card" for that customer to give to a friend. If you own a hair salon, the gift card could be for a free haircut for "friends of our friends" (and for new customers only). If you own a Software as a Service (SaaS) company, you can offer gift cards for a 30-day free trial.
9. Hold a Contest
If you have a business blog, Facebook Page, Twitter Profile, or other social media accounts that allow giveaways, hold a contest for your followers and offer a gift card for an online purchase as the prize. You can also do this in your brick-and-mortar location offering in-store gift cards as prizes.
10. Use Gift Cards as Marketing Tools
Rather than using gift cards to make money directly, why not use them to make money indirectly? For example, offer a gift card (that you can afford) to anyone who follows you on Instagram or likes your Facebook Page during a specific time frame. This is a great way to increase your online followers, and the more online followers your business has, the more people who are likely to see your future updates and marketing promotions on Instagram or Facebook. Keep in mind, if you're offering a giveaway promotion, you need to make sure you're follow the law and social media platforms' rules!
How do you use small business gift card marketing to increase sales and loyalty? Leave a comment and share your tips!
Originally published 8/14/16. Updated 3/26/23.