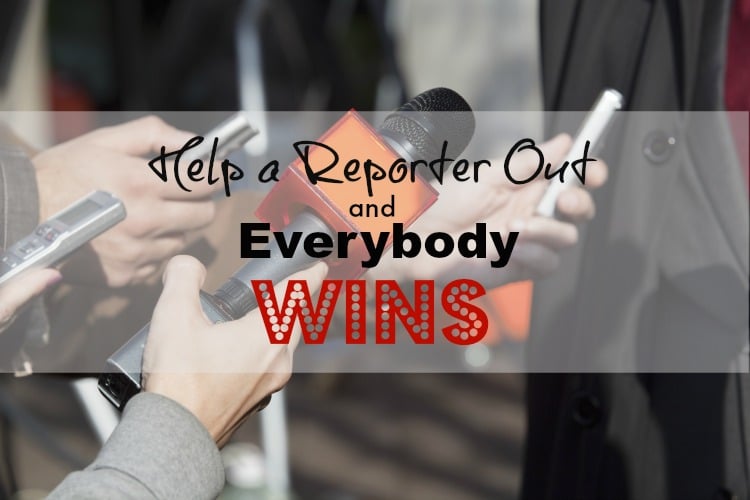 As you may know, journalists are seriously busy people. Between research, interviewing and writing multiple stories daily, they don't have a lot of free time. And they certainly don't want to spend their free time chasing down leads.
In steps Help A Reporter Out, commonly known the industry as HARO. Founded in 2008 by Peter Shankman, HARO is a free online service that quickly and easily connects busy journalists with the sources they need.
Have a story, press release, or quote you're looking to get into the public eye? Then taking a few minutes to sign up for Help A Reporter Out is well worth your time. A uniquely democratic media-to-public approach, HARO turns the tables by allowing reporters to seek YOU out.
Not bad, right?
How HARO Works
Journalists sign up with the service and submit "queries." These are short pitches where they reveal what type of source they are looking for. Many times they'll include their name and the publication for which they are working, but sometimes they wish to remain anonymous. I've seen everyone from uber-small niche bloggers to producers for nationally recognizable news shows post on HARO.
HARO is a win for journalists because it saves them a ton of time by not having to sift through their inboxes or follow up on dead end leads. If a member of the public follows up with that journalist on a valid lead, both the reporter and that publicity-seeking person have saved valuable time and effort.
As a source, you will receive three emails daily at 5:35am, 12:35pm and 5:35pm ET with a list of queries. If you have knowledge about any of those topics, write to the HARO-generated anonymous email for that reporter and give them a hand. With the upgraded HARO package, sources can create a profile and filter their alerts with a set of custom keywords.
The Rules of HARO
HARO is a free service, but they only ask one thing—that everybody play nice and not abuse the system. Here are the main rules:
1. No Spamming
As a source, don't send a reporter off-topic material. This defeats the purpose of having set up HARO in the first place. For example, if a reporter is asking for leads on an organic food story, don't write to them about your new brand of cosmetics.
Don't post any queries on the internet, Facebook, etc. This is supposed to be about helping reporters, and there is no filter control if you share outside of the HARO network. Who knows what that reporter will wind up receiving when you post their contact information on Quora!
3. Don't Harvest Email Addresses
You cannot harvest any emails for any reason. Don't be a jerk and add a reporter to your newsletter, or anyone else's email list.
4. Behave
Be excellent to one another, as it says on the website. No foul language, rude comments, spam, or anything else that you wouldn't want to receive via email.
The Benefits of HARO to You and Your Business
HARO is a win/win if we all play by the rules. It saves journalists a ton of time. Rather than trying to track down a lead, leads roll into their inboxes. No more sifting through poorly targeted releases and pitches!
It's also a great tool for you, as a source, and a no-hassle way to build your reputation as a credible newsmaker. See someone looking for a story that you are qualified to respond to? Excellent! You just made the news.
Have you gotten great coverage through HARO? Let us know in the comments!
About the Author
Mickie Kennedy founded eReleases in 1998. He lives with his family in Baltimore, MD.